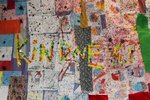 Splattering Kindness
"The Great Kindness Challenge"
Grandview Elementary will be participating in "The Great Kindness Challenge" during the week of Jan. 26-30. The challenge is dedicated to creating a culture of kindness at our school and nationwide. All students will receive a checklist with 50 kind deeds they can do during that week. Please encourage your child to complete the checklist and show the world that ...KINDNESS MATTERS by Splattering Kindness in their community and school! Ask your student what their goal is? Many of them want to do all 50 acts. During the week we will have spirit theme days:
Monday : Team Kindness: wear favorite sports team
Tuesday: Kindness Rocks: dress like a rock star
Wednesday: Crazy for Kindness: Crazy hair and clothes day
Thursday: Peace, Love, and Kindness Day: Hippie Day
Friday: Powered by Kindness: Dress like a Superhero day
Grandview Students Inspired by Keenan West to have the Courage to take a stand against Bullying
Keenan West who is a recording artist and anti-bullying activist from Cincinnati, Ohio visited Grandview Elementary yesterday performing for 3-6th grade students. Over the last few years he has traveled around the country bringing his anti-bullying assemblies to over 200 schools, K-12. He is partnering with the Secret Mean Stinks anti-bullying program to bring together our joint missions to bring an end to bullying and mean behavior!
His anti-bullying performance was 60 minutes long and combines my pop-culture inspired videos, ("Never Ever" Bully Prevention Music Video) music, providing powerful and thought-provoking motivational messages that engage students and help them take ownership of bringing an end to bullying at their school and among their friends.
6th grade Grandview students made him signs to welcome him and a banner to run through. Students sang Never ever with him and some students (and teachers) even had the courage to dance with him. Keenan loved the energy and excitement at Grandview and stayed after his performance and visited classrooms, talked to students, gave autographs, took pictures and even sang happy birthday to a 3rd grade student. He encourages 6th grade students to be role models for the school and taking the courage to stand out. Keenan stayed after school to get a picture with the Grandview Girls on the Run and even had time to sit and talk about gossiping and played a game of telephone and discussed the hurtful things gossip can do. Secret Mean Stinks, supports Girls on the Run International.
The students and teachers along with administration were inspired and encouraged. Keenan thanked Grandview students for welcoming him to their school. He told them to keep splattering kindness and to stay kind and he would come back. 6th grade students Anna Bishop along with Mia Bell had the courage to take a stand and sing a song about using your voice about being a friend the following morning over the announcements to the whole school. The song was written in collaboration from Anna Bishop and her brother Jeffery Bishop in 3rd grade. Grandview Elementary loved Keenan West message, his genuine passion and commitment to putting an end to bullying and his connection with our students will never be forgotten. We look forward to having him come back to Grandview! Grandview is where students and staff are splattering kindness throughout their school and community. Follow Keenan West @keenanwest @meanstinks The video link on Youtube: http://www.youtube.com/watch?v=8Hj_-kcX3q8; For more information about Keenan West visit keenanwest.com facebook.com/keenanwestmusic
twitter.com/keenanwest
The Vision of Grandview Elementary Counseling Program
Every student that transitions to seventh at Bellevue High/Middle School possesses the knowledge and skills necessary to achieve success. Students will exhibit emotional well-being and coping skills to thrive within their environment. Students will no longer be defined by their environment or others perceptions of them, but will apply their knowledge and skills to overcome barriers and contribute positively to the world around them. Students will be able to build positive relationships with others, set achievable goals, dream about possible post-secondary futures, and be able to set steps to achieve those dreams. Not only have students learned how to be successful academically, but they have also learned and internalized self-awareness strategies and are empowered to advocate for their personal health and wellness. Students will be curious life-long learners, strong enough to explore the world around them, and to pursue a life of fulfillment and service to others.

The mission of the Grandview Elementary School Counseling Program
To help equip every student with the knowledge and skills necessary to achieve success in an ever-evolving world. The comprehensive school counseling program nurtures all students as they explore their passions, interests, talents, and goals, leading to increased engagement and continued growth. Barriers to success are removed through empirically supported comprehensive school counseling interventions, leading to student success in academic, career, and social/personal domains. The school counselor collaborates with all stakeholders- such as teachers, administrators, parents/ guardians, families, caretakers, family youth service center, to create a positive, caring community that increases equity and access to opportunities that empower all students to become life-long learners.
Beliefs Statement Under the Link Tab
Grandview Elementary Celebrating National Thank a Police Officer Day
Saturday September 20th was "National Thank a Police Officer Day." Ms. Allen, Grandview School Counselor was inspired by Intern Kate Ross, whose husband is a fellow Police officer, after she asked a student to fill her husband's bucket by making him a card. Going right along with this year's theme of Splattering Kindness and Filling Buckets students at Grandview discussed characteristics and skills needed to be a police officer. Ms. Allen discussed how Police officers use reading and math skills and in what ways they were Tigers, which are Respectful, Responsible and Safe. Students then created cards for Bellevue Police Department thanking them for being brave, fair, responsible, respectful, risking their lives, and keeping them and their community safe. 5th grade students were excited to present Captain J. Poynter of the Bellevue Police Department with all the thank you cards thanking the Bellevue Police Department for all they do.
From Captain J. Poynter, Bellevue Police Department:
"Tomorrow is police officer appreciation day so some students from Grandview dropped off thank you cards to all of us at BPD. Its nice to know that the world is still a good place and our future holds some promise. Thank you Grandview!"
Please click here for youtube video
·